Regular price
Sale price
$77
Unit price
per
Sale
Sold out
To record your sound, press the microphone icon below and select "Take Video" 
We only keep the audio,
no matter what shows in the video.
It is the only way to record on a iphone.
Please upload your video
We only keep the audio, no matter what shows in the video.
It is the only way to record via Facebook/instagram app browser.
Remaining Time 00:59
Oops! Facebook/instagram blocked your microphone. To enable microphone access, open our website in Safari. See 2-steps video below.
Oops! Facebook blocked your microphone. To enable microphone access, open our website in Google. See 3-steps video below.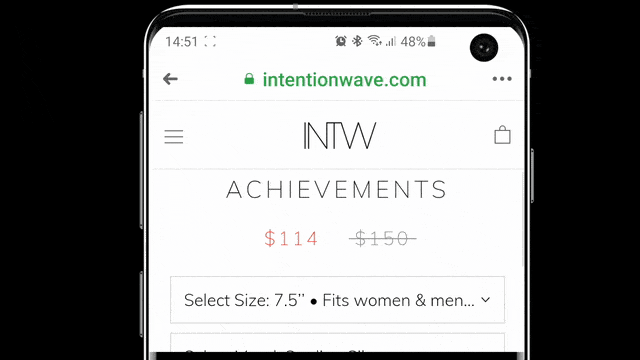 OR
When selecting this option, an assistant will contact you to help you create the soundwave after your purchase
Test Mode Enabled
Are you searching for a meaningful gift that will touch the heart and soul of your loved one? Look no further than our soundwave ring, a deeply personal and unique piece of jewelry that captures the sound wave pattern of your voice or that of a cherished person. With our QR code card, you can listen to the sound wave anytime, anywhere, bringing back memories and emotions that will be treasured forever. Give the gift of a soundwave ring and watch as tears of joy and appreciation fill their eyes. It's a gift that goes beyond just material value, it speaks to the heart and soul of the recipient, and it carries the intention of your love and thoughtfulness. Order your soundwave ring today and give the most meaningful gift that will evoke memories, emotions, and a sense of love that will last forever.
Materials

Our Signature 316L Surgical Steel is more than just an everyday wear jewelry material; it's a highly durable metal that can withstand the rigors of daily activities. Its hard surface resists scratches and corrosion, thanks to an invisible layer of chromium that prevents oxidation. Our jewelry is not only beautiful but also 100% hypoallergenic, so you don't have to worry about rust, tarnishing, or green skin, even with daily wear. Each colored piece is finely electroplated with 14k gold, ensuring a high-quality finish that will last for years to come.
Dimensions

Ring width: 3mm

Ring size: We offer sizes between 4 to 10 for all our Women Rings.

*Check the INTW size chart to choose the right circumference & diameter for you.
Shipping

IntentionWave currently offers FREE shipping on all USA and CAN orders over 130$ USD.

The Shipping Process:

1- After payment, your order will be processed within 24 hours.

2- All our jewelry are personalized and it takes around 3-5 business days for the engraving & packaging.

3- When your jewel has been created, it takes around 1-2 weeks for insured shipping. If you select the XpressPost shipping option, it takes 2-4 business days.

You should receive your Intention jewel within 2-3 weeks maximum! And if you choose XpressPost Shipping, it takes maximum 10 days to receive it.
Care Instructions

Pour some warm water in a small bowl, and add some mild dishwashing soap. Dip a soft, lint-free cloth in the soapy water, and then gently wipe the stainless steel jewelry with the damp cloth until the piece is clean. Wipe the remaining soap off your jewelry using a moist cloth dipped in clean water.Dry the jewelry well with a clean towel, and then leave your pieces to air dry.

For more informations on materials and our daily care recommendations, visit the page Materials & Care.

Special care - Rose Gold Ring: As rose gold jewelry is made with a unique mix of metals, it will be more fragile then the silver or the gold color. We recommend you take special care of this color by not wearing it in the shower or while washing your hands. Keep it in your pouch whenever you are not wearing it to preserve its natural shine and luster.
1 Year "Eternal Shine" Guarantee

Like your message, our jewelry was crafted to be timeless, eternal. That's why we want to make sure your special message is displayed on our jewelry forever. Each piece of jewelry is backed by our "Eternal Shine" guarantee, which means that, if, for any reason, your jewel is scratched or tarnish, we will replace it immediately, free of charge - no questions asked for a whole year. For more details, visit our 1 YEAR GUARANTEE page.
Share
View full details
Get inspired
"My last gift to her"
2 months ago my doctor told me I didn't have much time left on this earth. I love my wife more than anything and I was looking for a way to give her a part of myself... before I leave. When I heard about IntentionWave, I had the idea of recording a 15 minute message to tell her how much I love her and that will keep loving her in the afterlife. I decided to put our first song "the song that was playing on the first day we met" in the background. Needless to say, giving her this gift was one of the most beautiful experience of my life. I want to thank William and the rest of the team for all the support they gave me while creating this wonderful last gift.
Scott P.
"To the moon and back"
My wife and I have been together since college days. I was the regular nerdy guy that always looked distracted and more interested in astronomy than in girls. She was ... the one that asked me out, which was not typical. I recorded a message that said that she loved me first, but I will always love her, to the moon and back.
Gary C.
"Love you life to death"
I love my wife. We've been married for close to a year, and I wanted her to remember this first anniversary as something special. I got her a necklace with my ... voice saying "I promise to love you live to death." Maybe not the most original words, but very truthful about my feelings, and she loved it like it was the most romantic verse ever written. It's going to be hard to top this next year!
Jason S.
"The sound of the good ole days"
I have to admit I cried literal tears as when I was creating mine. Cause I know I'm living in the good ole days and I'm not ready for them to pass. I used video audio of a random ... night during my maternity leave. It's j playing with dinosaurs under our kitchen table, the water running as I wash dishes and Ollie ooing and aweing while swinging in the swing, and John just getting home from work. It's a sound I want to cherish, the sound of the good ole days🤍
Chelsea H.
"A piece of him"
My cat is probably my best friend. Yep, I'm a bit of a cat lady, deal with it. Anyways, Leo loves to sit on top of my legs while watching TV, and his lovely purr has helped me through ... some stormy situations in my life. That's why I recorded his purr. Now I have a piece of him to cherish even long after he's gone.
Marcie L.
"We love you!"
I'm a preschool teacher, probably not the usual customer, but I love my kids! To the point that I really miss them and it gets hard to spend 3 months away from them in summer. I got one ... of your bracelets and recorded my class screaming "I love you!" so I got them in my heart at all times.
Leelan H.
"I'll always be there for you"
My best friend is a guy I have known for 30 years. We have been with each other through EVERYTHING. I would go to the ends of the world for him, and he already has for me. 2 years ago he helped me when I was ... getting divorced and had to move to an entirely new state. He drove halfway across the country, rented the U-Haul for me, and while I stood to the side & cried, he loaded most of my stuff onto the truck. After everything he cooked for me while I cried myself to sleep. I recorded him a message that's too emotional for me to share, but I promised I will always be there for him.
Sarah M.
"You beat Timmy"
My best friend was going trough chemo. To try to up his spirits, I named the tumor "Timmy". That made it easier for her to communicate if she wasn't feel too good without feeling guilty. Like "sorry, I can't ... hang, Timmy is being annoying". Well, she beat it! So I got her a bracelet to remind her how strong she's been and I recorded "You did it, you beat Timmy!"
Rose P.
"I am proud of you"
My best friend is the most genuinely GOOD person that I know, and she's the best planner in the world -making you feel so special every time you spend time with her. I got to visit her last weekend, she's currently ... running for a State Senate Seat so I got to be her cheerleader and partner. I gave her a necklace saying how proud I was of her. She wore it while she spoke at different events and I hope it inspires her to get her seat!
Elena J.
"I'll take care of you forever"
I'm a first time mom, and having my baby has been the most extraordinary experience I've ever had. My baby is my everything and I want this moment to last longer. But he grows up so fast! I decided to use a recording of his first laugh ... for a necklace, so I treasure that incredibly special moment, and it also reminds me to take care of him forever.
Nathalie D.
"I love all of you"
I have three kids, and they are the only thing that really matter to me. The last of them is moving out of the house and I needed something special. I got them keychains, each one with a personal message. I want them to know that I love ... them, and no matter where they are I'll always be there for them.
Chandler C.
"I love you Maddie"
I love my grandma. She's the one that raised me almost by herself, while my mom & pop worked. She's hell of a strong woman who has lived through everything. But she's getting old and starting to get sick, and I moved out of state, so I don't know ... when I'll see her again. I recorded her saying "I love you Maddie" so I can keep her in my heart wherever I go.
Maddie R.